All sorts of "phone sex services" advertise that they do humiliation phone sex.
Needless to say, most of their people read from scripts or have cheat sheets.
That's because they have no clue what humiliation phone sex really involves.
They'd probably be shocked to hear some of the humiliation calls we do every day.
Our real-life FemDom Mistresses are into humiliation phone sex, and look forward to every call.
What makes our service unique is that we have a large group of FemDoms, each of whom is into different forms of humiliation. Teen brats and cruel Dommes who love humiliating shrimp dick worms and small penis losers. Cruel Mistresses who enjoy requiring public humiliation - perhaps by CFNM public nudity or masturbation. Cuckolding wives or partners who will humiliate you by choosing men who are truly able to satisfy them, and taunting you afterward; creampies or other humilating acts may be on the menu as well. Mommies and Mistresses whose favorite activity is sissification and sissy slut training, not only turning boys into pretty little girls, but requiring them to gobble cock like a true slut.
Most of the guys who call us not only feel inadequate - they know that they're inadequate. The only true relief these men feel, is when a dominant woman takes advantage of their inadequacy.
That's a perfect match for our FemDoms. They know that they are biologically and temperamentally superior to you and other submissive men. They love exerting their power over you in ways that not only humiliate, but degrade you. Getting excited? So are they. Pick up the phone and call.
Cruel Humiliation: 877-882-OBEY
---
Our two top requests:
small penis humiliation
and cuckolding.
Call our cruel Mistresses, teen brats, cuckolding wives and prick teases.

SPH/Cuckold Phone Sex: 888-306-TINY
It works out perfectly: the majority of our callers want either SPH phone sex from women and girls who know what shrimp dick losers really want and need - or from weak men who yearn to be cuckolded by strong wives, lovers or teens.
And the majority of our Dommes, Mistresses and teens revel in the power they can exert over men with tiny pricks and even smaller self-esteem.

Small penis humiliation phone sex is cruel honesty at its best. Spend time with our self-absorbed teen brats, who can get all the cock they need in real life and wouldn't hook up with you on a bet. Or hear the truth about your inadequacy from our powerful Dommes, who certainly don't have to settle for a man with a tiny penis like yours.

Our Mistresses will be happy to take your humiliation a step further; they specialize in cock control lessons, guided masturbation sessions, and tease and denial phone sex. Just ask.

We also have a large group of cuckoldresses, slut wives and dominant teens who will create a cuckold roleplay for you that's so real you may find it hard to breathe. Let them humiliate you by having you pick out their outfits, or even arrange their dates, with their huge cock boyfriends. Interracial cuckold fantasies, creampie eating, everything that makes you feel inadequate and humiliated - is waiting for you. Trophy wives? Dominating teen brats? Slut wives in search of gangbangs? The more twisted, the more we love it; if you can dream it, you can live it when you call.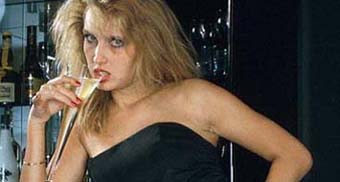 Let our skilled Mistresses and Dommes find your weak spot and exploit it.

Erotic Humiliation and
Verbal Humiliation Phone Sex:
877-DOMME-44
Many of our Mistresses are skilled at erotic humiliation phone sex; they will excite you by demeaning you. Gentle verbal belittlement, forced flattery or subservience, demeaning of physical or intellectual capabilities - there are so many different ways we can demean and humiliate you that we could only scratch the surface here. But we will find your vulnerabilities, and exploit them.

And we love the types of humiliation phone sex that are too extreme for others. We have Dommes who will probe to find the weakest parts of your personality, and not only humiliate you - but weave a web of words that will destroy any self-esteem you may have had. Most services won't touch racial, ethnic or religious humiliation; our Mistresses revel in it. Financial domination and blackmail to humiliate you, humble you, and destroy you? Our Dommes can't wait to start. Do you have a hidden personality weakness? Call for humilation phone sex, and we will uncover it, exploit it and bring you down - from forced intoxication and drug abuse, to public exposure of your most embarassing personal secrets. Our phone sex dommes are waiting for your call.
---